Journaling is the ability to record all communications in an organization. Government regulations are forcing companies to journal increasingly more electronic communications, including email, voicemail, and fax transmissions. Many companies are also adopting similar internal requirements to prevent and prepare for government audits and lawsuits.
Making sure that email in your company is journalized is a broad requirement. How you comply with this request is defined by the specific regulation that your company must follow and the advice of your legal counsel. For example, complying with a regulation that requires supervision of employee claims differs from a regulation that requires retention of all company officer communications. In either case, you must understand how your messaging data fits in your company's broader journaling solution.
You can enable journaling of your Hosted Exchange email by following these steps:
1.  Create a journal mailbox (ie: journal@domain.com)
2.  Enable journaling by clicking on the 'archive' option from the grey sidebar.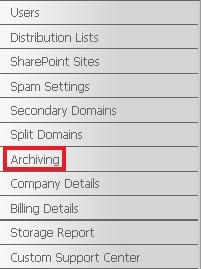 3. Select the journaling option and set the destination for your journaling to the appropriate journal mailbox you created in step 1.

You will now need to configure an archive solution, such as MX Logic, to grab the messages from the journal for retention.